Voith and Sun Paper's Remarkable Achievement in Early Start-Up of Nanning PM 2 and PM 3 State-of-the-Art Packaging Paper Machines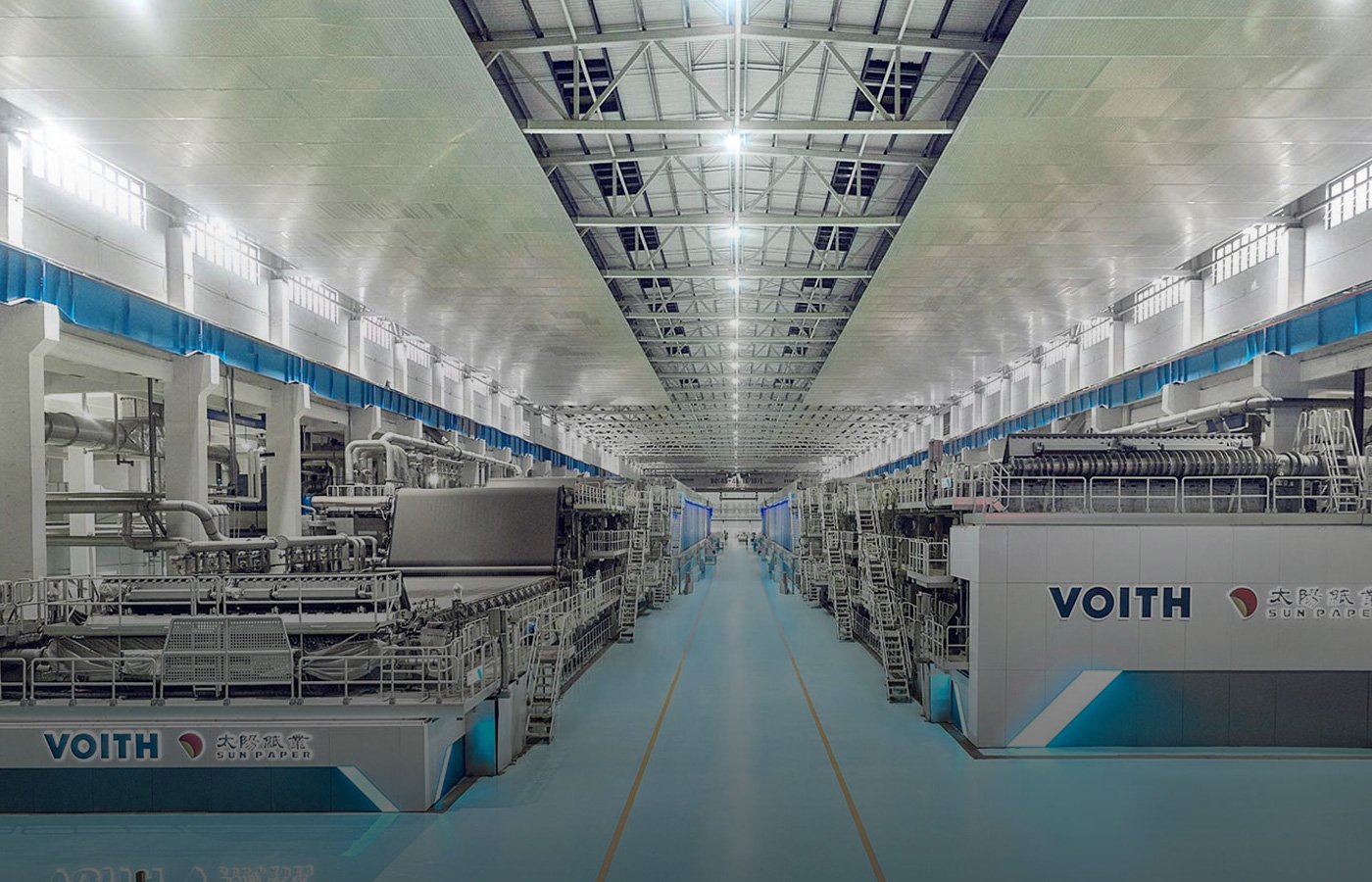 Sun Paper has accomplished the early start-up of two cutting-edge packaging paper machines, marking a significant success in their ongoing collaboration with Voith. This feat sets a new standard in the industry, with PM 3 notably achieving a world-record start-up time of just one hour from stock on wire to the production of the first saleable paper roll.
The advanced XcelLine machines from Voith exhibited exceptional performance, with PM 2 reaching its designed production within three weeks post-start-up, and PM 3 achieving this milestone within a remarkable two weeks. Notably, the produced paper met stable quality standards and satisfied customer requirements right from the initial reel.
In a recent development, Sun Paper effectively commissioned the two state-of-the-art packaging paper machines, PM 2 and PM 3, in Nanning, China, within a month. PM 3, in particular, not only passed tests in just three weeks but also set a record-breaking start-up time of one hour from stock on wire to the creation of the first saleable paper roll.
The successful deployment of Voith's XcelLine machines further cements Sun Paper's prominent position in the global paper industry, underscoring a longstanding and successful partnership between the two companies. This exceptional performance is attributed to years of trust and close collaboration between the teams at Sun Paper and Voith.
Continuous knowledge exchange and meticulous project preparation led to significantly reduced downtimes during project implementation. Chairman of Sun Holdings Group, Li Lu, emphasizes the significance of a sustained partnership, stating, "Our enduring collaboration with Voith emphasizes that a successful business relationship thrives on mutual support and long-term growth."
Ying Guangdong, Vice General Manager and Chief Engineer of Sun Paper, highlights the strategic importance of the alliance with Voith in seeking sustainable and innovative solutions, besides strengthening their cooperation in the packaging paper domain.
Fu Guoling, Project Director, underscores the superior performance of Voith's machines, citing the exemplary timelines for achieving designed production and the high-quality, well-received paper in the market. This efficiency, coupled with excellent management on both sides, significantly reduced project duration, enhancing economic profitability.
The Nanning-based PM 2 and PM 3 machines, with a wire width of 7.3 m, attained a design speed of 1,200 m/min. PM 2 produces high-quality packaging paper with an annual capacity of approximately 520,000 tons, while PM 3 specializes in similar paper with an annual capacity of around 480,000 tons.
Voith, as the leading full-line supplier, provided all components for the machines, incorporating cutting-edge automatic control systems and digitalization solutions from the Papermaking 4.0 portfolio.
Kurt Yu, President of Voith Paper Asia, expresses their pride in being Sun Paper's key partner in the packaging paper sector, acknowledging the trustful cooperation and the significance of each follow-up order.
The successful commissioning of the two machines in Nanning signifies a milestone in Sun Paper's regional development plans and further strengthens their position in the industry, supporting the creation of a self-sufficient forest pulp-paper system.