Sidhu Engineering Works: Pioneering Water-Efficient Solutions in the Papermaking Industry :
Sidhu Engineering Works: Pioneering Water-Efficient Solutions in the Papermaking Industry : Interview with Mr. Rahul Basra, Technical Director of Sidhu Engineering Works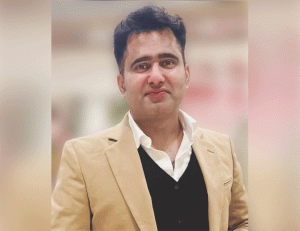 Bangladesh Pulp & Paper: Could you please give us a glimpse into Sidhu Engineering?
Rahul Basra: Sidhu Engineering Works has been at the forefront of constant evolution and innovation since its establishment in 1985. With our manufacturing facility in Loni Industrial Area, Sahibabad, Ghaziabad, we specialize in the production of top-tier spray showers, nozzles, oscillators, robo cleaners, and filters. Our company boasts a skilled team of technical professionals and cutting-edge manufacturing facilities, including CNC machines and other state-of-the-art equipment for efficient production.
BPP: Could you please describe the products and services of your company specific to the paper industry?
RB: We provide tailored technical solutions to tackle the challenges of excessive freshwater consumption, enhancing the lifespan and productivity of felts/wire, and the comprehensive cleaning of felt, wire, mold section, and the paper industry. Our range of products includes the renowned Ruby tip showers known for their superior spraying capabilities. Among our flagship offerings, the oscillators, particularly models 8001 and 3001, have gained significant popularity in the market.
Our primary focus remains on water conservation in the paper machine processes. Often, high water consumption arises due to the use of conventional methods, inadequate system management by operators, suboptimal machinery maintenance, and inefficient machine performance.
BPP: What are the recent developments at Sidhu Engineering?
RB: We recently introduced the Sidhumatic Duel Jet Robo Cleaner, a groundbreaking innovation in the paper industry. This cutting-edge solution consumes a significantly lower amount of water (6-10 m3 per day) by employing 3-5 Ruby Jet Nozzles to clean wire/felts, resulting in an approximate 90% reduction in freshwater consumption compared to conventional showers. The Robo Jet assembly is equipped with SS 316 construction, an imported servo motor, and a zero dwell time mechanism, allowing for automated synchronization with machine speeds to optimize cleaning efficiency.
Additionally, the Sidhumatic Servo Shower is another recent innovation aimed at reducing water consumption by approximately 70%. Operating at a pitch of 400 MM with Ruby Jet Nozzles, these showers come with an alarm system to prevent felts and wire damage in case of shower motor failure during operation. The showers are designed for linear cleaning, offering improved efficiency compared to conventional alternatives, all managed through a single panel system.
BPP: Kindly tell us about the market footprint and clientele of Sidhu Engineering.
RB: Our esteemed clientele includes prominent integrated mills such as Khanna Paper Mills Ltd., Bindals Papers Mills Ltd., Gayatrishakti Paper & Boards Ltd., NR Agarwal Industries Ltd., Sahota Papers Ltd., Katyayini Paper Mills Pvt. Ltd., Vishal Papertech, and Sainsons Paper Industries Pvt. Ltd., among others. Presently, we have secured an order from Silverton Pulp & Papers Pvt. Ltd.
BPP: How important is water conservation for the paper industry?
RB: Water is often equated with money, and it's widely recognized that judicious water usage is crucial. Given that papermaking is inherently water-intensive, water conservation has transformed from an option to an imperative. At Sidhu Engineering Works, we are dedicated to offering sustainable solutions that not only enhance operational efficiency but also contribute to the responsible use of this invaluable resource.