Krofta Engineering: Providing Complete Water Treatment Solutions
Krofta Engineering Limited is one of the leading suppliers of waste water treatment equipment and complete water management solutions, having supplied more than 1200 systems for effluent and wastewater applications. With installations operating in diverse industrial segments in India, the company's most recent achievement is the development of its triple wire belt filter press for sludge de-watering. In a recent conversation with Bangladesh Pulp & Paper, Mr. Raghvendra Khaitan, Managing Director, Krofta Engineering Limited, shared about the company's journey, DAF technology and other water treatment solutions, plant set-up and manufacturing capabilities, market footprint, and business roadmap.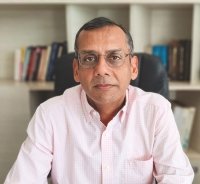 Bangladesh Pulp & Paper: Please tell us about Krofta India's journey, major milestones, and crucial achievements.
Raghvendra Khaitan: Krofta Engineering Limited, India began operations in 1983 as a manufacturer for Dissolved Air Floatation (DAF) units. Since then, we have added multiple products to our portfolio and made technical collaborations with several companies around the world. Our most recent achievement would be the development of our triple wire belt filter press for sludge de-watering.
BPP: Kindly elaborate on your DAF technology and how you serve the pulp and paper industry with it.
RK: Our DAF technology is used for physio-chemical separation and is most popularly used to treat the paper machine back water and is used for fiber recovery, which is then taken back to the machine chest. Our DAFs are also used as secondary clarifiers in lieu of conventional clarifier systems especially in those areas where space is constrained and in this case they also serve a dual purpose of not only physio chemical separation but also sludge thickening. Additionally, our DAFs are also used for color and Chemical Oxygen Demand (COD) reduction after the secondary clarifier, and we have seen excellent results in two paper mills where we have installed them. Our DAFs work best with our patented air dissolving tubes, which is a pressure vessel used to saturate air in water.
BPP: What are the other technologies and solutions that you offer to the pulp and paper industry?
RK: We offer complete water treatment solutions. With the recent addition of varied anaerobic treatment methods to our product range, we are able to provide more value to our customers and give them the best solutions to keep their paper mills running without any hiccups. We help our clients produce smell free paper, also while allowing them to save costs by re-using process water and generation of bio-gas. As pulp and paper is a large carrier of water, sludge generation is also a major concern and with our recent development of screw press and our triple wire belt press, we are able to handle and dewater large volumes of sludge which invariably if not treated, are either discharged as a slurry or taken back to ETP which increases the load.
BPP: Do you engineer or manufacture your technologies in-house? If yes, please elaborate on your plant set-up and manufacturing capabilities?
RK: Yes, we have our own 60,000 sq. ft. manufacturing facility in Faridabad, India. We have a qualified team of top personnel along with a certified production team. We have standard capabilities of steel processing such as cutting, bending, and welding, along with a separate cleaning, painting and sandblasting area. We follow all quality checks and inspections, with safety being our top priority.
BPP: Is it easy to operate your technology or does it require human resource training? Do you provide it as a part of your service contract?
RK: Our technology is easy to operate, especially if our clients opt for automated systems. As part of our contracts, we provide free service from our engineers, for a certain time period, who will be present at client sites during commissioning so they can train the operators on how to run the machine. We urge our clients to use our services to avoid any issues during machine startup. We also provide a detailed operation manual. Our service engineers can be requested at site for maintenance issues with just a few days' notice. We also now provide remote start up services.
BPP: Can you tell us in detail about your market footprint? What is your USP?
RK: We are currently present in most regions in India, Middle East and certain parts of Africa. Our USP is our custom-tailored solutions which we provide, and our team's in-depth knowledge of the functioning of the paper mill. There is no scenario we have not seen and we will surely have a solution for you.
BPP: What is your business roadmap? What is your annual turnover in terms of physical sales?
RK: We wish to continue upgrading our technology and being able to provide new methods for our clients to treat their water and protect the environment. In terms of annual turnover for physical sales, this past year we completed over 120 projects big and small, and dispatched material of over 660 metric tonnes.
BPP: What are the recent developments that you have invested in at Krofta Engineering for your pulp and paper segment?
RK: We have recently launched our anaerobic treatment reactors. These are of utmost importance in paper mills due to the prevalence of high levels of COD. Further, we continue developing our existing technology, such as in DAF's – our Megacell has been very successful in paper mills across India and outside. We have also launched a sludge digestor which is of great importance to the paper industry as we are able to generate gas from excess sludge and this generation of gas can become a part of green energy initiative for the paper mills.