Parason Machinery: Adopting a Winning Strategy
Parason Machinery is constructing a new plant at Chikalthana Industrial Area, Aurangabad. Once the plant gets operational, Parason Machinery will be able to mass manufacture cast iron dryers, headboxes and other critical components that India has been importing from China.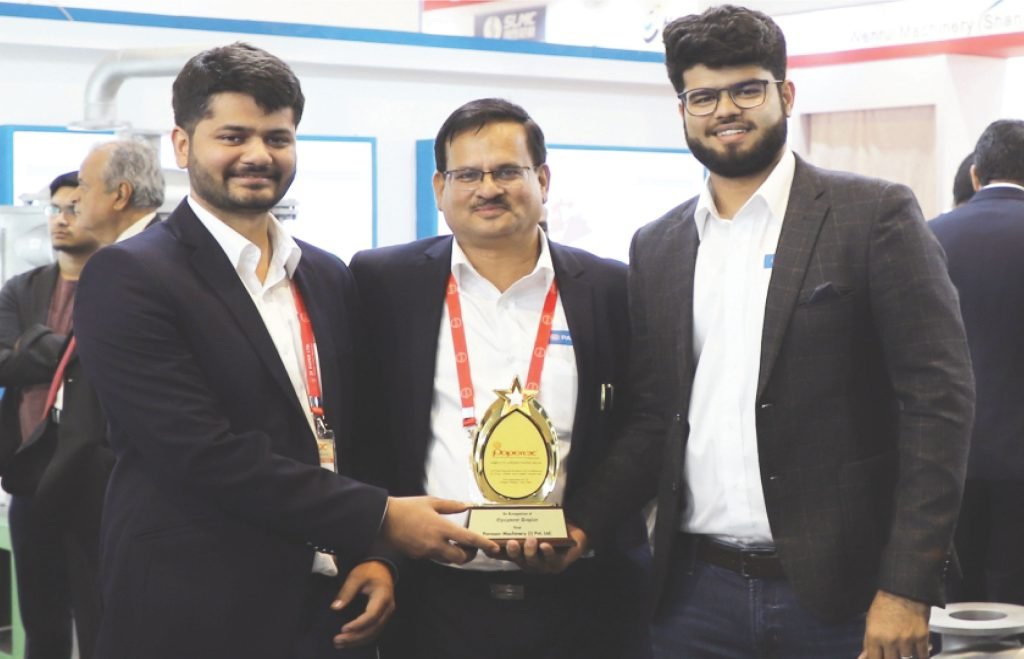 Kishor Shekhar Desarda: Parason Machinery is a 45-year-old company founded by Dr. C. P. Desarda who was metallurgist. Today, Parason is a company known for its products and services for stock preparation and approach flow lines. Parason products are widely used in tissue, kraft, writing printing and duplex board paper mills across India and in around 60 countries. Parason products mainly cover pulping, cleaning, screening, refining, and the dispersion areas of stock preparation lines. With production addition every year, Parason has been able to expand its portfolio and serve the paper industry efficiently.
Apart from Indian operations, we also have a manufacturing base in Brazil. There we have a full fledged manufacturing setup. With the team of around 85 employees in Brazil we are actively engaging with customer base in Latin America.
Could you tell us a little bit about your infrastructure, workforce and manufacturing capabilities?
KSD: At Parason, we are focused on quality products for our customers. Our facility in total is spread across 15 acres with around 4,00,000 sq. ft. of covered area. Our manufacturing infrastructure is divided into 5 verticals.
oundry: We have two dedicated modern special alloy steel foundries where we manufacture refiner disc and tackles.
Machining: We have machines shops with dozens of CNC machines with the capability to machine critical components with high accuracy.
Heavy Duty Fabrication: We also have a heavy-duty fabrication facility where we can handle jobs up to 50 tons, and we carry a good amount of expertise in welding technology.
Chemical Coating Facility: Recently We have also started our own hard chrome and chemical coating facility.
Engineering Services: We also provide engineering services to most of our clients where we do mill engineering for them. Mill engineering involves sizing and engineering of all the equipment along with motors, pumps, chest, and electrical systems. Mill engineering makes sure that all the piping layouts are correct and the entire system is mass balanced. We have delivered many projects which have the complete 3-D mill layout with virtual reality objects. With 3-D layout and virtual reality, customers can have firsthand feel of their mills. They can see how each and every corner of the mill looks like. This eliminates chances of error at a later stage and makes sure the customer gets the maximum output with minimal operating costs. We have been doing this for more than five years now mainly for our international customers.
We also have a manufacturing plant in Brazil which caters to the Latin American market.
Parason has skilled workmen who are expert in the area of engineering and manufacturing technology. With a dedicated team of 38 design engineers, we are always a step ahead to deliver innovative products to the market. Overall, Parason has around 1,200 employees in India and Brazil.
Parason recently commenced the construction of a new paper machine manufacturing plant at Chikalthana, Aurangabad. Could you tell us a little bit about this new project?
KSD: Parason is in the process of coming up with a facility on a newly allotted 4 acres of industrial land. The facility will be used for manufacturing critical components for the paper industry. It will be used for manufacturing cast iron dryers, which are currently being imported from China. From very early days, Parason has always focused to create import substitutes. At Parason, we have always invested in R&D and have taken various projects for the advancement of our manufacturing capabilities. We feel that indigenization with superior quality of each component and product is very much important for every company and country to sustain and grow. With the new facility we are focusing on creating a reliable and cost-effective alternative for the products which are currently imported in India. We also appeal to every customer of ours to come forward and develop products in India. Ultimately every product development revolves around current demand of industry. And with right engineering approach we are ready for it…!!
Could you tell us about the technological capabilities to be installed in the new plant? What is the total outlay for the project?
KSD: The new plant will be equipped with multiple CNCs and heavy duty machines which are required to manufacture dryer cylinders and critical components. We are also aligning our facility to mass manufacture headboxes. We carry a good amount of expertise in headboxes, and our capability to mass manufacture headboxes would allow us to compete with the Chinese manufacturers of headboxes. We will offer headboxes that are much better than those offered by China. And we will offer them at a competitive price. The same is the case for dryers. With our expertise in metallurgy and foundry technology, we will manufacture dryers that are qualitatively far better than Chinese dryers. And we will offer them at Chinese prices.
What are your thoughts on India's growing paper sector? How responsive has been the Indian pulp and paper industry when it comes to buying your products?
KSD: I think that Indian paper industry is growing at a CAGR of 7 percent and that our products figure prominently in it. We are not only selling capital equipment but also taking care of after sales services, engineered consumables and spare parts. Our products play a vital role in energy saving, and with the continues improvements we make, we deliver the latest technology to our customers.
Could you tell us about your global footprint? Is the global market for your machines lively enough for your business?
KSD: Parason is a widely known name in the international paper world. We are regularly doing business in 60 countries. Around 50 percent of our revenue comes from exports. With the recent acquisition of Calpher in Brazil, we are actively expanding on the Latin American market. Our quality products and ability to resolve customer problems with correct solutions makes us the preferred partner on the global market. We are adding customers in every country and wining the trust of our customers with our quality products.
What new challenges is the Indian pulp and paper industry facing because of the ongoing COVID-19 pandemic?
KSD: The pulp and paper industry is a substantial part of the foundation of an economy. We see supply-chain issues due to the COVID-19 outbreak, but in the long run, we will witness further growth of the Indian paper industry. India's 1.3 billion population is a very big consumer base in itself.