Ecosure Pulp Molding's Product Line Contributes To India's Single-Use Plastic-Free Drive
EcosurePulpmolding Technologies Limited offers fiber-based pulp molding solutions to its customers. The whole product line has been designed to contribute deliberately to India's campaign of becoming free from single-use plastic-based products. The company is among the new-age contributors to the Indian pulp and paper industry and is committed to providing turnkey solutions for the industry through its pulp molding machinery. As the industry is experiencing a demand growth for varied packaging solutions, in the form of biodegradable agro-based products, EcosurePulpmolding contributes through customized customer-centric solutions and testedfor-application innovation. Paper Mart, assisted by Mr. Mohit Kumar, Chief Visionary Officer & Co-Founder of EPTL, explores how the company uses its various servicing arms and product portfolio to ensure a reliable customer base in the upcoming years.
EcosurePulpmolding Technologies Limited: Journey & Milestones
Ecosure Pulpmolding is the first Indian company offering indigenously designed -developed & manufactured in INDIA saving millions of dollars in imports," Mr. Mohit Kumar introduces EcosurePulpmolding.
The Make in India campaign, or self-reliant India, is an important government-backed initiative for the Indian economy, industries, and manufacturing-based startups. Ecosure Pulpmolding Technologies Limited is among the various manufacturing companies that are not only using the opportunity to build a more profitable business for themselves, but also contributing to the Indian economy. Although the company started its current operations in 2020, it boasts of an industrial experience in this domain of over 10 years in 2023.
The company's roots can be traced back to Taiwanese and Chinese partnerships and ventures in 2012 and 2016 respectively. After getting incorporated in 2019, the company established a state-of-the-art infrastructure to manufacture pulp molding machines and molds in 2020.
Mr. Kumar shared, "EcosurePulpmolding is an ISO 9001:2015 and IAF-certified Company and we have successfully completed more than 25 projects on an all-India basis, around 25 projects are under execution in the year 2023, and 2 international projects are under implementation in Thailand & Australia," highlighting the success of the company.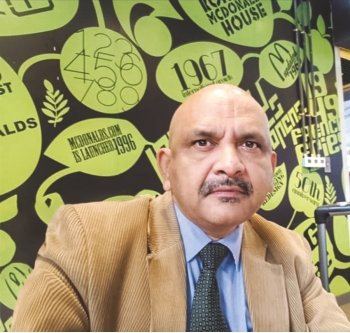 Products & Servicing Portfolio
Mr. Mohit Kumar descripts, "As a leading pulp molding machinery manufacturer, EcosurePulpmolding has various responsibilities to adhere to." The responsibilities include understanding the customer's requirements and providing a customized solution. This includes pre-sales and process-based support to the customer.
EcosurePulpmolding offers turnkey solutions to produce eco-friendly molded fiber products and also offers indigenously built fully automatic, semi-automatic pulp molding machines, robotic pulp molding machines, edge trimming machines, and production molds. The semi-automatic pulp molding machines, namely ECOSA 7565 & ECOSA 10095. Out of these, ECOSA 10095 can be modified to adjust any existing mold of any other make of Indian or Chinese machine. The robotic pulp molding machines, ECOSAR 7565, ECOSAR 10095, and ECOSAR 12010, are integrated with the functioning of a ROBOTIC ARM and can be bought as oil-heated based or electric-heated based. The fully automatic pulp molding machines, having models as ECOFA 7565, ECOFA 9090 & ECOFA 12010, are all equipped with an oil-heated or electric heated- base.
In order to facilitate the pre and post-sales services EcosurePulpmolding has undertaken various steps. "We have a designated R&D center for innovating existing technologies and working towards new ones. Our in-house drawing and designing facilities are used to develop customer-centric solutions along with the upgradation of existing products. We also have an in-house lab for pulp and mold testing facilities, which we also rent out. We also train new machine operators and our demo-plant facility helps our customers to view and understand the working of the mechanized solutions. We offer 24×7 after-sales support to our customers," shared Mr. Kumar.
EcosurePulpmolding's products undertake all the functions from pulp-molding or thermoforming, hot-pressing, trimming, and quality checking, to packaging the finished products. The products are designed to follow Zero Liquid Discharge Process (ZLD) and ensure 100 percent recycling of waste products.
Market Footprint & Clientele
Mr. Mohit Kumar elaborated on EcosurePulpmolding's market footprint, "In India, so far we have booked more than 56 projects, and 25 projects are successfully running. EcosurePulpmolding has entered into a technical joint venture with Fang Thai Factory Limited, aThailand Company. The joint venture, FTF Candia Fiber Mold Packaging (Thailand) Company Limited, will offer turnkey solutions by producing chemical-free enzymatic cellulosic fiber (GREEN fib technology) from various types of agro waste by using green fiber technology. We are setting up two international projects, one project in Thailand and another one in Australia."
EcosurePulpmolding's Climate-Conscious Future
EcosurePulpmolding entered the market in a post-Covid era, but its preparations required a study of pre and post-pandemic trends. The observation shows a preference for biodegradable products stemming from twin concerns. The first is a higher awareness of hygienic practices and the second is the realization of individual and societal carbon footprint. "The end consumer is more sensitized toward sustainable practices and prefers biodegradable products, like agro-fiber-based tableware, instead of plastic products, such as one-use plastic ware. Hence, EcosurePulpmolding is also making its presence and efforts known toward manufacturing climate-conscious industrial products," commented Mr. Kumar.
EcosurePulpmolding's products use agro-fiber or bagasse pulp to manufacture biodegradable products. The agro-fiber pulp is sourced from agro-waste of sugarcane, bamboo, rice straw, and wheat straw. Bagasse-based products are manufactured from sugarcane-based agro-waste pulp.
Mr. Kumar further highlighted the company's contribution towards the Indian economy, "EcosurePulpmolding is a contributor to various government campaigns, such as Make in India and Pradhan Mantri Kaushal Vikas Yojana. We also provide technical education support to our customers through an in-house design facility about how a production plant must be set up." The motivation for all these facilities is stemmed from the market demand that the company forecasts for the industry's future.