Meghna Group of Industries: Pioneering Bangladesh's Thriving Paper Industry with a USD 3 Billion Turnover
Bangladesh Pulp & Paper had the privilege of conducting an exclusive interview with Md. Yearul Islam, General Manager (Sales and Marketing) of Meghna Group of Industries. With a remarkable history that began in 1976, Meghna Group has emerged as one of Bangladesh's largest industrial conglomerates, encompassing over 50,000 employees, 6,300 distributors, and 15,000 suppliers, achieving an impressive annual turnover of approximately USD 3 billion. The company's diversified portfolio includes FMCG, building materials, pulp and paper, LPG, feeds, fiber, power plants, shipping, seeds crushing, chemicals, shipbuilding, dockyard, securities, insurance, media, foil packaging, ceramics, and aviation. In this interview, Mr. Yearul Islam shares insights into the company's paper mills, production capabilities, expansion strategies, and the challenges faced by Bangladesh's paper industry.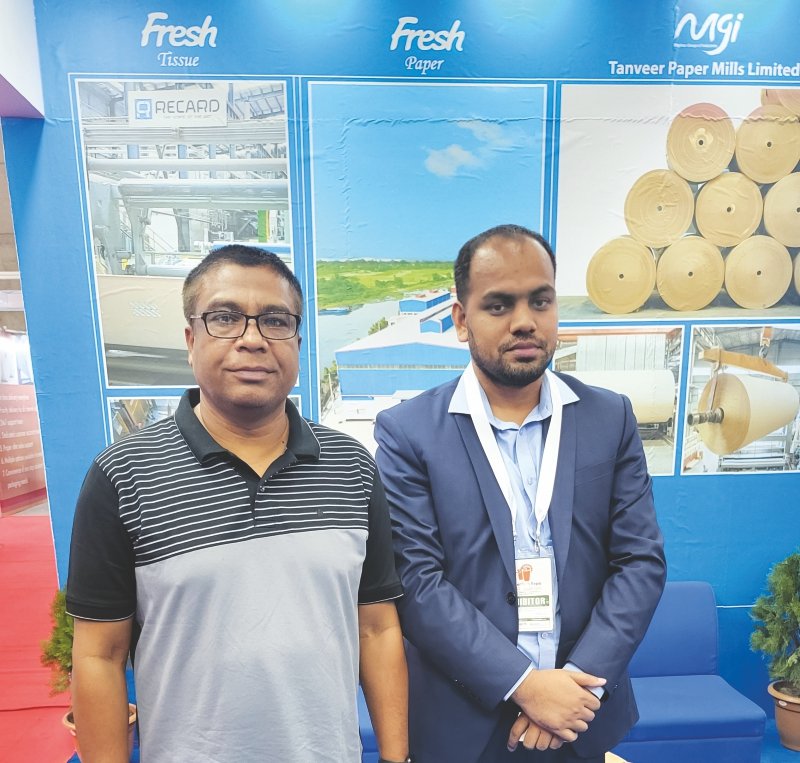 Bangladesh Pulp & Paper: To begin, could you provide us with a concise overview of Meghna Group of Industries?
Md. Yearul Islam: Certainly, Meghna Group is the foremost conglomerate in Bangladesh, boasting more than 40 sister concerns within its fold. Currently, our annual turnover stands at approximately USD 3 billion. We hold a leadership position in industrial-grade paper production in Bangladesh and have been pioneers in exporting these grades to international markets, including China, Sri Lanka, India, and other countries. Customers from around the world seek out our paper products for their quality.
Bangladesh Pulp & Paper: Could you shed light on your paper mills and the different grades they manufacture, along with their production capacities?
Md. Yearul Islam: We operate five paper mills within our group. Two of these mills are dedicated to tissue paper production, with a daily production capacity of 100 metric tonnes. We manufacture a wide range of tissue products, including napkins, scented tissues, toilet paper, facial tissues, and more. We have a robust market for tissue paper, with exports to regions like Africa, the Middle East, Nepal, and India.
Additionally, we have mills for industrial-grade paper, with a combined daily production capacity of 800 metric tonnes. In these mills, we produce fluting paper, liner paper, kraft liner paper, white liner paper, NCR paper, and art paper. Furthermore, we produce various types of writing and printing paper ranging from 40gsm to 170gsm, with a daily production capacity of 300 metric tonnes. As part of our expansion plans, we intend to venture into duplex boards, Swedish boards, and simplex boards.
Bangladesh Pulp & Paper: Can you provide insights into the raw materials used for tissue paper and industrial-grade paper production, and the challenges faced in sourcing these materials?
Md. Yearul Islam: We exclusively use imported raw materials for tissue paper and writing and printing paper, employing 100% virgin pulp for these grades. Industrial-grade paper production relies on 100% waste paper, with various categories of raw materials such as NDLKC, OCC, and NCC utilized depending on the specific paper type.
Challenges arise due to the current economic situation in Bangladesh, with the value of the dollar soaring while the value of the local currency, the taka, diminishes. This presents difficulties in importing ra w materials, which affects all paper mills in the country. Given the presence of over 100 paper mills in Bangladesh, the local prices of raw materials are inflated, leading to a raw material crisis within the industry.
Bangladesh Pulp & Paper: How does Meghna Group meet the power requirements of its paper mills?
Md. Yearul Islam: To fulfill the power needs of our paper mills, we have established our own power plant, generating nearly 35 megawatts of electricity.
Bangladesh Pulp & Paper: What are your perspectives on the paper industry's current state and future prospects?
Md. Yearul Islam: The tissue paper market is continuously expanding, offering new opportunities. Currently, we command approximately 25% of the local market share. In the writing and printing paper segment, we hold around 10% of the market, while for industrial-grade paper, we have captured a 30% market share. With our reputation for producing high-quality industrial paper, we have a significant growth potential, as many packaging companies import paper from Bangladesh.
In the next 2 to 3 years, our company will focus on enhancing paper quality and further increasing our market presence.
Bangladesh Pulp & Paper: What are the future plans of Meghna Group for the paper business?
Md. Yearul Islam: Meghna Group has ambitious plans for the paper sector. We intend to expand our presence by venturing into steel, glass, and paper industries with the addition of 3 to 4 more concerns. Moreover, we aim to invest further in the paper sector, exploring opportunities in duplex boards, writing and printing paper, and tissue machines. Depending on market conditions, we plan to increase paper production volume in the future, both for the domestic market and for exports to South Asia, the Middle East, Africa, and European countries.
With a clear commitment to quality and innovation, Meghna Group of Industries is poised to play a vital role in shaping the future of the paper industry in Bangladesh and beyond.